Welcome to our S4D Learning Lab!
Do you want to learn more about specific topics linked to sports? Do you want to know more about M&E and how you can implement it in your daily work? Do you want to get more insights about events and trainings offered in our partner countries?
We are currently developing a roster of web seminars with new content with our partners CRISP and the German Sport University. The seminars will be updated on our website very soon. Please revisit the website soon to learn about our new seminars.
Are you interested in running your own S4D workshops? Or do you want to learn more in your own pace? If yes, check out the guidelines and links below.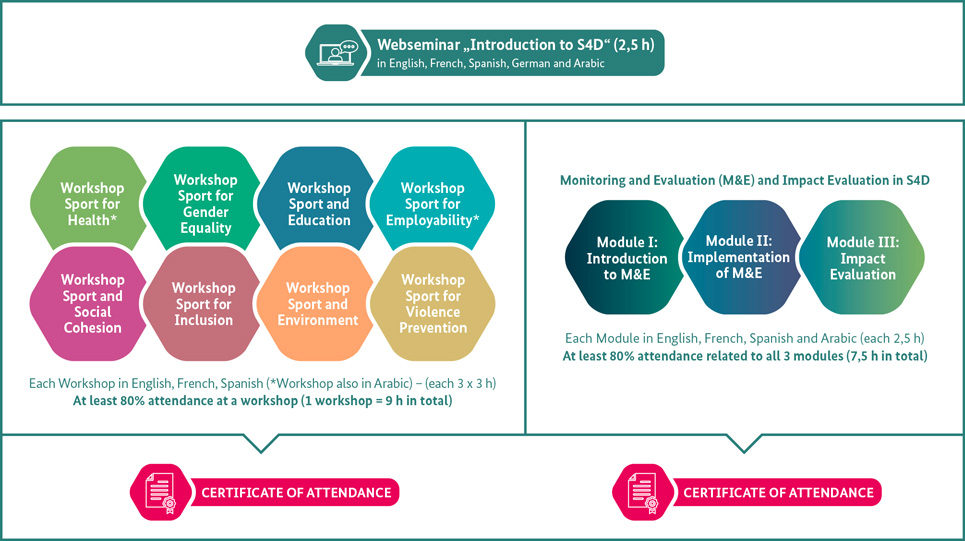 Formats and Requirements:
Web seminars are short inputs in a lecture style format and are scheduled on a rolling basis. They are made for anybody who wants to get a first impression on how sport can be used as a tool for social change, without having any prior knowledge.
Web seminars about the topics M&E and Impact Evaluation are offered in a modular format: Take part in all three modules (Module I: M&E Introduction; Module II: M&E Implementation; Module III: Impact Evaluation) and you will get a certificate!
Workshops consist of several modules, include self-study and group assignments and are scheduled periodically. Participation in an introductory Web Seminar ("Introduction to S4D") or prior knowledge of S4D are required for the workshops. In order to guarantee an interactive and participatory workshop atmosphere, regular attendance, active engagement and a stable internet connection are required. Participation with a laptop is recommended. You must attend at least 80% or more of the workshop be eligible for a certificate of attendance. Please only sign up if you are 100% sure that you can take part in all days of the workshop!
The registration will close the week before the web seminar or workshop is scheduled (Thursday 11:59 pm).