Welcome to our S4D Learning Lab!
Do you want to learn more about specific topics linked to sports? Do you want to know more about M&E and how you can implement it in your daily work? Do you want to get more insights about events and trainings offered in our partner countries?
In our Calendar below, you will find upcoming web seminars, workshops and events on key topics related to sport for development such as gender equality, employability, quality education and monitoring and evaluation (M&E). These learning and networking opportunities are offered in English, French and Spanish by experts from the German Sport University.
If you are interested in running online workshops for S4D instructors or institutions and organisations interested in using sport-specific approaches and methods for development objectives, the guidelines below might be interesting for you. Your participants will learn more about linking development topics to sports. They will also benefit from S4D projects and training offered in other countries. The guidelines consist of the workshop structure, the overall contents, and the learning outcomes necessary to successfully facilitate topic-oriented workshops in institutional settings. Additionally, you can use parts of the documents as a reference for thematically appropriate wording, for inspirational purposes with practical activities or workshop development, and as layout examples for communicating information.
CD Guideline "How to Run a 'Sport for Health' Workshop" (GIZ-DSHS, 2022, en)
CD Guideline "How to Run a 'Sport for Gender Equality' Workshop" (GIZ-DSHS, 2022, en)
CD Guideline "How to Run a 'Sport for Employability' Workshop" (GIZ-DSHS, 2022, en)
CD Guideline "How to Run a 'Sport for Social Cohesion' Workshop" (GIZ-DSHS, 2022, en)
CD Guideline "How to Run a 'Sport and Environment' Workshop" (GIZ-DSHS, 2022, en)
CD Guideline "How to Run an Impact Evaluation" (GIZ-DSHS, 2022, en)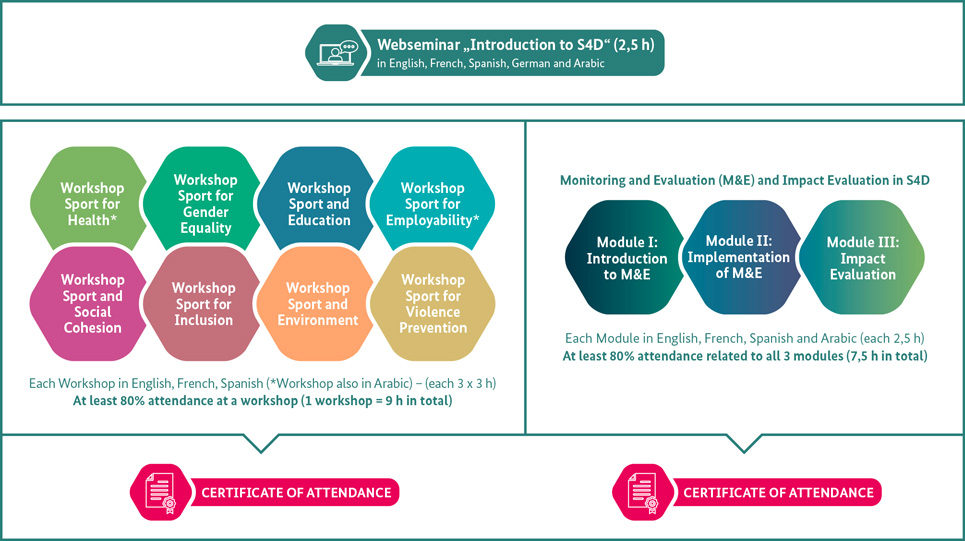 Formats and Requirements:
Web seminars are short inputs in a lecture style format and are scheduled on a rolling basis. They are made for anybody who wants to get a first impression on how sport can be used as a tool for social change, without having any prior knowledge.
Web seminars about the topics M&E and Impact Evaluation are offered in a modular format: Take part in all three modules (Module I: M&E Introduction; Module II: M&E Implementation; Module III: Impact Evaluation) and you will get a certificate!
Workshops consist of several modules, include self-study and group assignments and are scheduled periodically. Participation in an introductory Web Seminar ("Introduction to S4D") or prior knowledge of S4D are required for the workshops. In order to guarantee an interactive and participatory workshop atmosphere, regular attendance, active engagement and a stable internet connection are required. Participation with a laptop is recommended. You must attend at least 80% or more of the workshop be eligible for a certificate of attendance. Please only sign up if you are 100% sure that you can take part in all days of the workshop!
The registration will close the week before the web seminar or workshop is scheduled (Thursday 11:59 pm).
The calendar will be updated regularly, and more topic-specific seminars and courses will soon follow. If Workshops or Events are taking place in our partner countries, we will keep you updated here as well.