Welcome to our S4D Learning Lab and the Global S4D Community!
Do you want to learn more about specific topics linked to sports? Do you want to know more about M&E and how you can implement it in your daily work? Do you want to get more insights about events and trainings offered in our partner countries? Then pre-register to our Global S4D Community (official start is on August 12th 2023) and enroll in our Web Seminars and Workshops. It is free of charge!
We are currently developing a roster of web seminars with new content with our partners CRISP and the German Sport University. The seminars will be published on our website and on our Global S4D Community platform on August 12th 2023. Please revisit the website and join/pre-register our Global S4D Community to learn about our new seminars.
Are you interested in running your own S4D workshops? Or do you want to learn more in your own pace? If yes, check out the guidelines and links below.
Introducing the Global Sport for Development Community
Sport inspires and connects people all over the world - regardless of language, gender or religion. At the GIZ, our global sport for development (S4D) programme aims to enable and facilitate international, regional and national actors to leverage sport to support marginalised youth in measures that promote employment, gender equality and social cohesion.
The next iteration of the global S4D programme is built around community. We want to facilitate connectivity between, and capacity building amongst qualified S4D practitioners from GIZ partner countries. We want to support and facilitate a global community that empowers its members to actively get engaged with each other and foster peer to peer learning among the trainers, instructors, and multipliers globally.
And to this end, we are now launching an online S4D community: a global learning and networking platform that combines digital connection with offline activities to be used by "S4D practitioners" worldwide.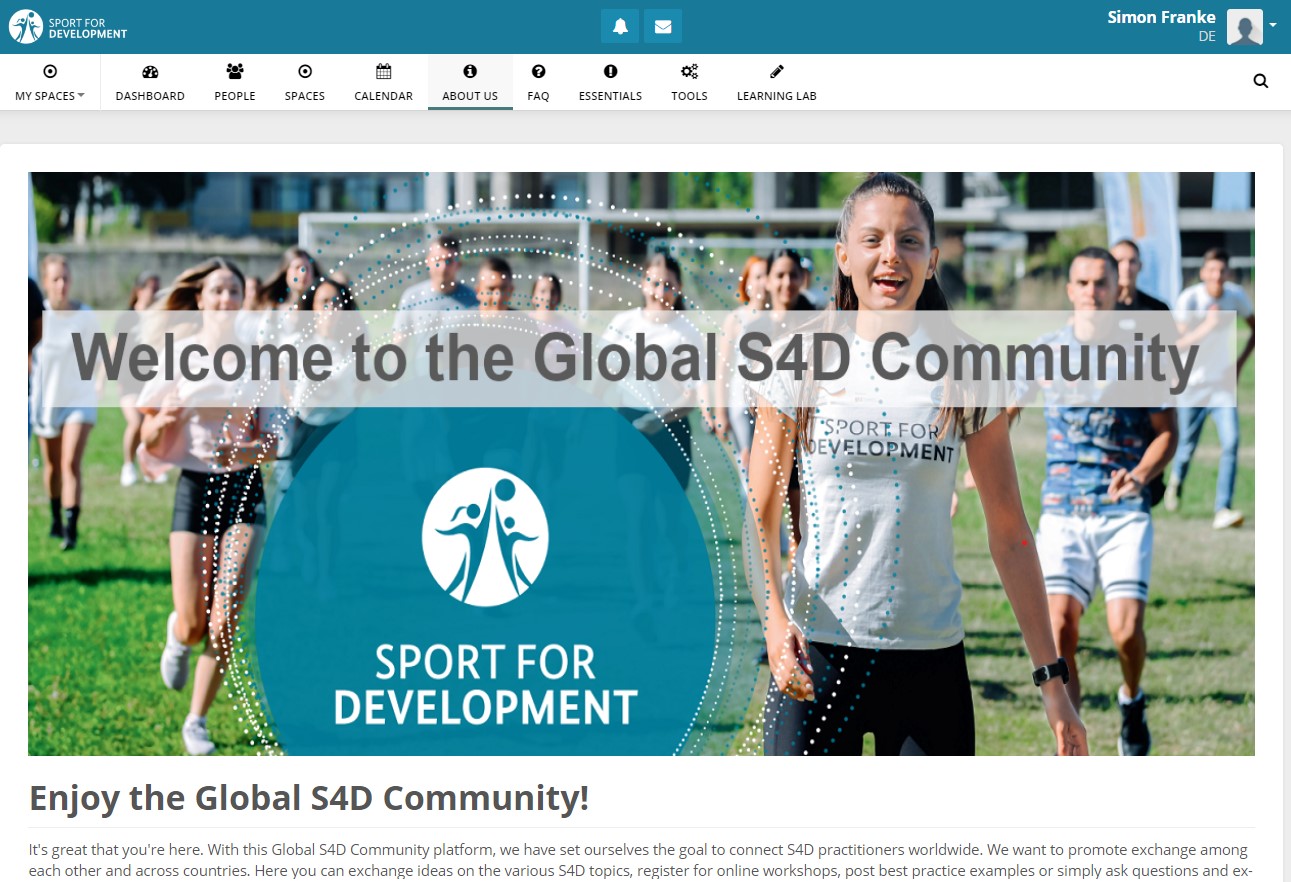 What is the Global Sport for Development Community?
The Global S4D Community is a new open membership offer for practitioners and partners that combines an online social intranet - purpose built by our partners at HumHub - and a variety of offline learning and knowledge exchange activities. The Community is free to access, and welcomes practitioners of all backgrounds, ranging from seasoned S4D trainers, instructors, and multipliers to enthusiastic newcomers who share an unwavering commitment to drive positive change through sports.
Who is involved in the project?
At the core of our platform's technical aspect, lies 'HumHub,' ensuring seamless connectivity and user-friendly interactions for an efficient and smooth experience.

Furthermore, our community management team, comprising expert organizations in the Sport for Development sector led by Yunus Sports Hub, supported by Laureus Sport for Good Foundation, Laureus Germany, and Oaks Consultancy Ltd., plays a pivotal role in nurturing a supportive environment for S4D practitioners worldwide. Their efforts will foster an atmosphere of cooperation and collective growth, encouraging practitioners to collaborate, share insights, and learn from one another.
What can you expect as an S4D community member?
As a member of the Global S4D Community, you will gain access to a wealth of resources and opportunities. Our platform offers web-based training courses, workshops, e-learning material, and interactive modules, thoughtfully curated in collaboration with CRISP e.V. and the German Sports University. The content is designed to be engaging, interactive, and relevant, ensuring that you receive the most comprehensive and up-to-date knowledge in the field of Sport for Development.
Through our global learning and networking platform, you can actively engage in discussions, join interest groups, and participate in virtual events, connecting with fellow S4D practitioners from diverse backgrounds. The community thrives on shared experiences and collective knowledge, inspiring innovative approaches to Sport for Development.
How can you get involved?
Getting involved in the Global S4D Community is straightforward. All S4D practitioners, from newcomers to experienced professionals are welcome to join our transformative platform.
Register: Visit our website and sign up as an S4D community member. It's easy and free!
Explore: Navigate our comprehensive web-based training courses and workshops, tailor-made for practitioners at all levels.
Engage: Participate in lively discussions, join interest groups, and take part in virtual events to connect with fellow changemakers.
Grow: Embrace the journey of lifelong learning, empowering yourself to drive positive change through sports.