16 Days of Activism against Gender-Based Violence Orange the World: End violence against women now


The Campaign
According to UN Women, one in three women worldwide experience physical or sexual violence, and only 40 percent seek help of any sort afterwards. The annual international campaign "16 Days of Activism against Gender-Based Violence" aims to raise awareness on gender-based violence and calls for individuals and organizations around the world to unite for the prevention and elimination of violence against women and girls. The campaign runs from November 25th, International Day for the Elimination of Violence against Women, to December 10th, Human Rights Day. This year's theme for the 16 Days of Activism against Gender-Based Violence is "Orange the world: End violence against women now!"


Our Contribution
To help orangeing the world, the sector project "Sport for Development" and the regional project "Sport for Development in Africa" of the Deutsche Gesellschaft für Internationale Zusammenarbeit (GIZ) joined forces. We want to use the 16 Days of Activism against Gender-Based Violence to proviode a platform for individuals working in the field to share their expertise and insights. In a podcast series of four episodes, we will interview activists, practitioners, and researchers from different regions to learn more about their experiences and gain their insights on the topic. We are thrilled to present our interview guests:
Charles P. Simakumba from the White Ribbon Campaign, Namibia
Magdalena Spasovska from Together Advancing Common Trust, North Macedonia
Dr. Grace Okong'o from Kenyatta University, Kenya
Yianny Ioannou from Tackle Africa, United Kingdom
The episodes will be released on November 26th, November 30th, December 4th, and December 7th respectively. On the other 12 days, we will provide you with information on our interview guests, music and book recommendations, and ideas of concrete action you can take to fight GBV. The content will be published on both our website and our Instagram page, so follow us to stay up to date!



Day 1: Portrait - Charles Simakumba
We are honored to introduce our first guest, Charles Simakumba, an activist fighting gender-based violence in Namibia.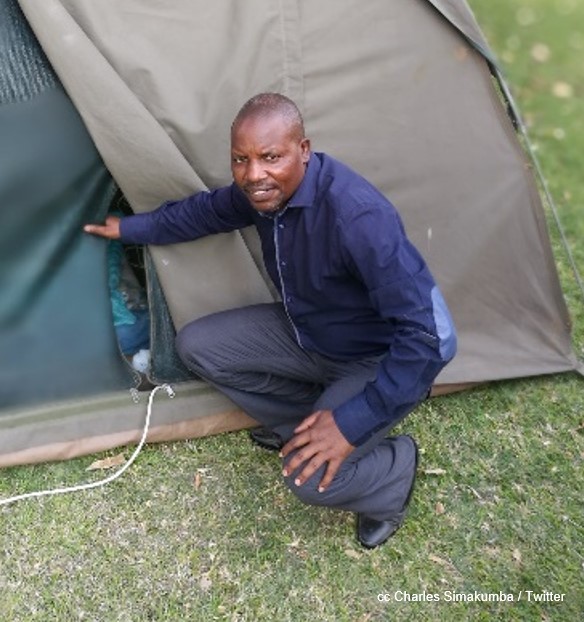 Charles is passionate about promoting positive masculinity and engaging men in the gender-based violence discourse. He is a former teacher who decided to use his voice to tackle gender-based violence in his community and his home country Namibia. In 2004 he co-founded the White Ribbon Campaign Namibia and is still volunteering as the director. The NGO brings together men and young boys to work on ending men´s violence against women and girls through education, discussion and action. Today, the White Ribbon Campaign Namibia is one of the international GBV Prevention Network 500 fighting violence against women and girls.

In cooperation with GIZ, the White Ribbon Campaign launched an awareness raising campaign in sports clubs called `Show violence the red card`. That is when we experienced Charles' dedication and enthusiasm firsthand, which made us think of Charles as our first guest for our `16 Days of Activism against Gender-Based Violence` podcast series. Tune in, on November 26th,on our website, to hear more from Charles and his way of tackling violence, his experience, and his view on the current situation in Namibia.

For more information on the White Ribbon Campaign Namibia, check their Twitter channel.
Day 5: Portrait – Rebecca Iliescu and Yianny Ioannou
In the second podcast episode, Mariam Ibrahim talks to Rebecca Iliescu and Yianny Ioannou from TackleAfrica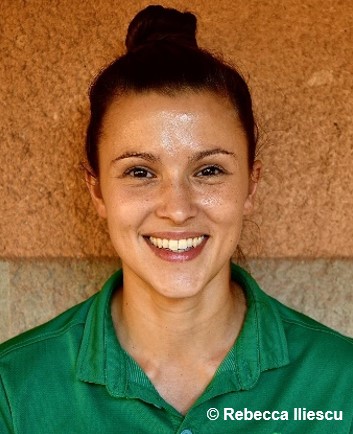 Rebecca is Programme Manager at Tackle Africa Côte d'Ivoire since 2019. Before, she worked as a football coach for youth, as a personal trainer and in kinesiology. She is organizing and delivering training courses, HIV testing sessions, tournaments, and supports the coaches on the ground.
"Everything we want to achieve goes hand in hand with a more equal and just society"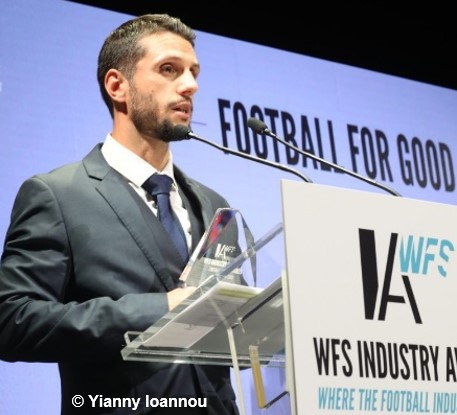 Yianny is
Director of Operations at TackleAfrica and a professional football coach
with UEFA A License from the UK. Since 2007, he has delivered football and HIV courses in several African countries and is dedicated to use sport to educate children and young adults and to use sport as a tool for social impact. 11 years ago, he joined the NGO TackleAfrica because he sees sexual health as a key element for gender equity.
TackleAfrica, founded in 2002, uses the power and popularity of football to bring people together and to
provide a platform to educate youth on sexual health with a focus on HIV.
With the help of sport, they deliver Sexual and Reproductive Health and Rights information to young people across the African continent. By combining sex education with physical training, their prevention message is better remembered, understood, and practiced. Today, TackleAfrica has more than 50 staff members and programs in 12 African countries with a huge network of trained football coaches. For more information on TackleAfrica, check their
website.
Day 11: Portrait – Magdalena Spasovska
We are honoured to introduce our third interview partner, Magdalena Spasovska, a women's rights activist and Sport for Development expert from North Macedonia!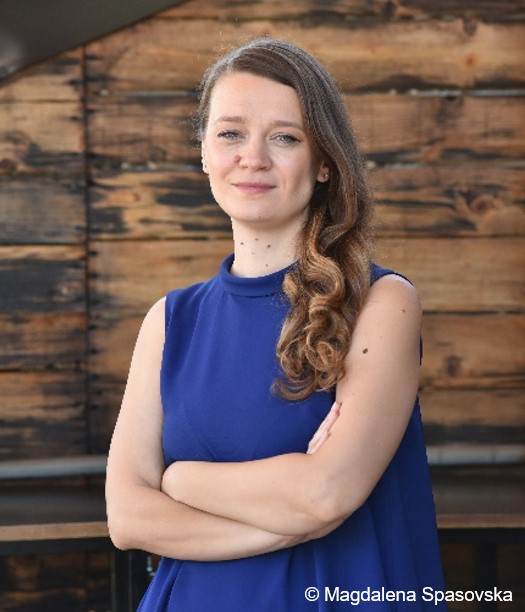 Magdalena Spasovska is a Sport for Development instructor, project manager and M&E officer and has more than ten years of expertise in organizing gender equality actions with sports organizations and institutions. Among other commitments for gender equality, she is the founder and president of "Together Advancing Common Trust" (TAKT), a start-up, non-governmental organization that aims to bridge up cultures and fight social and gender inequalities through sports and cultural activities. Furthermore, Magdalena is a member of the National Gender Equality Council at the Agency of Youth and Sport, which is the highest sports body in North Macedonia, as well as of the executive board of the Anti-Poverty Platform of North Macedonia. Through the football club "Football for All", she actively promotes football for young girls across the country and as a member of the National Network to End Violence Against Women, she fights gender-based violence.
Like all other countries in the Western Balkan, the Republic of North Macedonia has a national strategy to combat domestic violence. Since the ratification of the Istanbul Convention on violence against women, three National Action Plans have been developed. Nevertheless, gender-based violence and its most dominant and least reported form, sexual violence, are still prevalent. The number of North Macedonian women who believe domestic violence is a private matter is three times higher than in other countries. Additionally, some forms of physical violence, such as slapping or sexual violence in intimate relationships, are still considered normal by society. Furthermore, women often do not report incidents due to mistrust of security and justice institutions. Shelters are sparse and underfunded and often lack specifically trained staff in domestic violence issues.
In our third episode, we are pleased to welcome Magdalena as our podcast guest and to talk about her own experiences, her motivation to fight against gender-based violence and the Western Balkan perspective.
Day 15: Portrait – Dr Grace Bonareri Mose-Okong'o
We are honoured to introduce our fourth guest, Dr. Grace Bonareri Mose-Okong'o, researcher and women's rights activist from Kenya, with whom we will conclude our podcast series.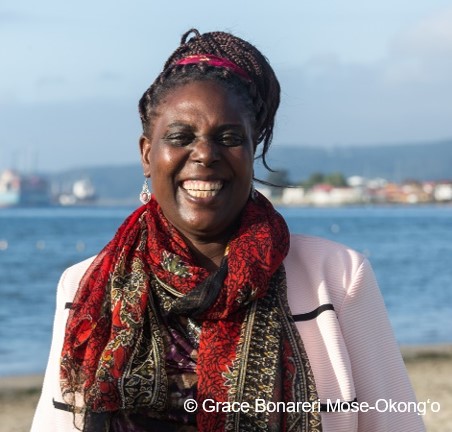 Grace was born and grew up in Western Kenya before she moved to Nairobi for her Bachelor´s Degree at Kenyatta University. During her studies, she discovered her interest in gender issues and decided to pursue an academic career in Gender and Women's Studies, first in Kenya and then in the United States, where she obtained her PhD in Gender and Women's Studies and Cultural Anthropology. She later moved back to Kenya, where she is currently a lecturer at Kenyatta University, but frequently travels back to the United States, where her family lives. Among others, her areas of specialization are gender-based violence and African-traditional practices. Grace did both her Master and PhD thesis on Female Genital Mutilation (FGM), a practice that continues to be widespread among some communities in Kenya and which Grace is a victim of herself.
Besides her academic expertise on gender-based violence, Grace is a passionate advocate for gender equality. For Grace, it is crucial to actively involve her students in the fight for more gender equality and not only teach about gender issues. In 2013, she founded the not-for-profit and non-partisan organization Hope Foundation for African Women (HFAW). HFAW works with rural communities in Kenya to reduce gender inequalities through popular education, with FGM as a priority. In her activism, Grace aims to involve everyone in the community in the fight against GBV, as collective action is needed to foster gender equality. Despite challenges, such as lack of funding, HFAW has trained 30 health and human rights promoters to combat GBV and improve access to reproductive health and information in their community.

You can find more information on the Hope Foundation for African Women on their website, Facebook, and Twitter.