'Sport has the power to change the world. It has the power to inspire,
it has the power to unite people in a way that little else does.'
As Nelson Mandela recognized, sport is more than physical exercise. It can teach people fairness, tolerance, and respect. In fact, it is a force and a tool that can help reach various goals to change the world for the better.
The German Federal Ministry for Economic Cooperation and Development (BMZ) uses the approach of "Sport for Development" (S4D) to contribute to the designated Sustainable Development Goals (SDGs) like gender equality, good health and quality education. For that matter, coaches in partner countries such as Namibia, Colombia and Jordan are trained to convey competences to children and adolescents that empower their self-esteem, help them master their daily lives, and take their future into their own hands.
What has been missing so far is a systematic overview of S4D strategic approaches, topics, methods, and tools.
How can sport contribute to the SDGs? What kind of competences can children and youth, coaches and multipliers learn in theory and practice? How can we evaluate the outcome of S4D projects? The toolkit aims to promote the use of sport as an instrument for development policy-makers and workers and to encourage teachers, coaches and multipliers to run S4D activities and projects. It assembles experiences German Development Cooperation and their partners made in various countries. We arranged it according to development topics, countries, teaching and learning materials so that it allows you to put materials together anew to meet your own specific learning or training requirements.
Please click on the following buttons to discover the Resource Toolkit.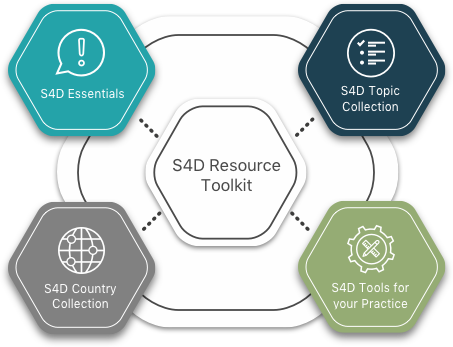 We continuously add new content to the website. Kindly get in contact with us if you wish to know more about S4D or if you have any questions.